Regular exterior cleaning keeps your vehicle in excellent shape over time. Having your pressure washer makes washing your automobile (and many other items) faster, easier, and less expensive. A pressure washer has many applications around the house and yard, making it an excellent investment. Using a foam cannon with a pressure washer is our preferred car washing method.
There are a variety of pressure washers available, ranging from gas to electric, portable to industrial strength, and what works for one family may be excessive for another. So, how do you go about selecting the best pressure washer? We've compiled this list to help you locate the best pressure washer for your needs and budget and explain what to look for while searching for one.
Our Top Picks of 2023
1. Sun Joe SPX3000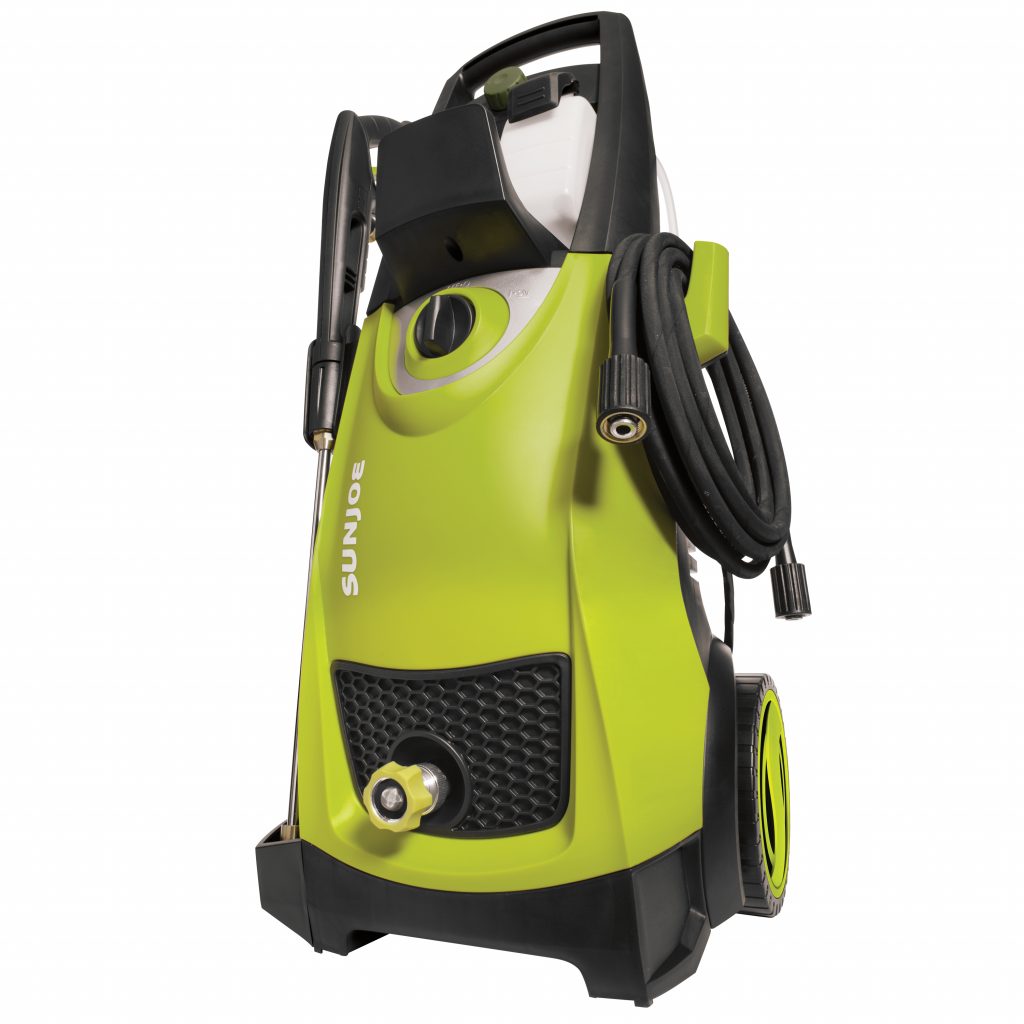 One of the most effective electric pressure washers for foam cannons is the Sun Joe SPX 3000. The Sun Joe SPX 3000 is a pressure washer with an integrated 33.8-ounce foam cannon that adds air to the detergent and fires it up to 15 feet. So you can clean those hard-to-reach places without exhausting yourself. It can generate water pressure of up to 2030 PSI, enough to clean all filthy surfaces quickly. Its numerous cleaning solutions, 20-foot flexible hose, and 14-inch extension wand can also clean the dirtiest parts of your yard where hours of water cleaning have failed.
It's quite light and portable, thanks to some big rear wheels that keep it stable. It's powerful enough to accomplish any household task. It also has five replaceable spray nozzles that operate differently depending on the cleaning project. The SPX 3000 is a well-made machine that is both sturdy and comfortable. The spray gun is top-notch, with a fine metal barrel, easy-to-attach and detach spray nozzles, and a sleek pull-down collar. The TSS (total stop system) switches off and shuts the pump when the trigger is not pressed. This little, low-cost power washer is harsh on filth yet gentle on your budget and back.
Pros
Less noise
Affordable
It's simple to get about
Enough power for all domestic chores
Built to last
Cons
If you use this system for a long time, it may start to leak.
The plastic adaptor is very delicate.
A flimsy wand bracket
2. Stanley SHP 2150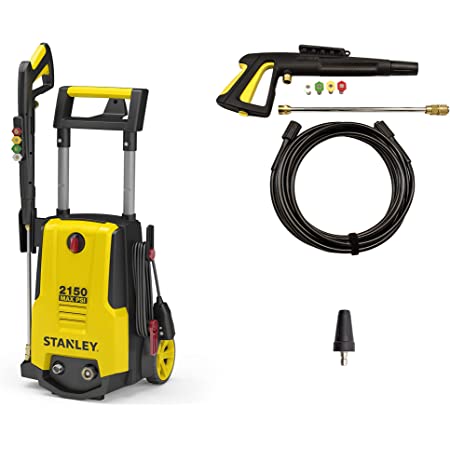 You can't go wrong with the Stanley SHP2150 if you want a high-quality pressure washer with a powerful soap foam cannon. This pressure washer has a total cleaning power of 3010 PSI at 1.4 GPM and a total cleaning pressure of 2150 PSI. It includes four nozzles as well as a two-year warranty. High-pressure hoses 25 feet long and an electric cord 35 feet long boost the portability of this Stanley electric pressure washer and allow you to reach even the most difficult cleaning tasks. Furthermore, the washer's modest weight allows you to grab the handle and move it about effortlessly.
A sleek, futuristic design encloses a 13-amp electric motor to power the machine. Two rubberized plastic wheels of this popular electric pressure washer make it portable. It includes a great foam cannon that stores conveniently on board. There's an obnoxiously enormous plug on this! It isn't easy to plug in if you're using this primarily outside and have electrical ports in weatherproof enclosures. Pulling the trigger and achieving full water pressure isn't always instantaneous. The price isn't too costly, so it'll fit most people's budgets.
Pros
Lightweight
Garden hoses are compatible.
A suitable level of pressure
Storage-wise, it's well-designed
Cons
There is no support for a pressure control system.
A very large plug
Occasional latency before pressure application.
3. Karcher K1700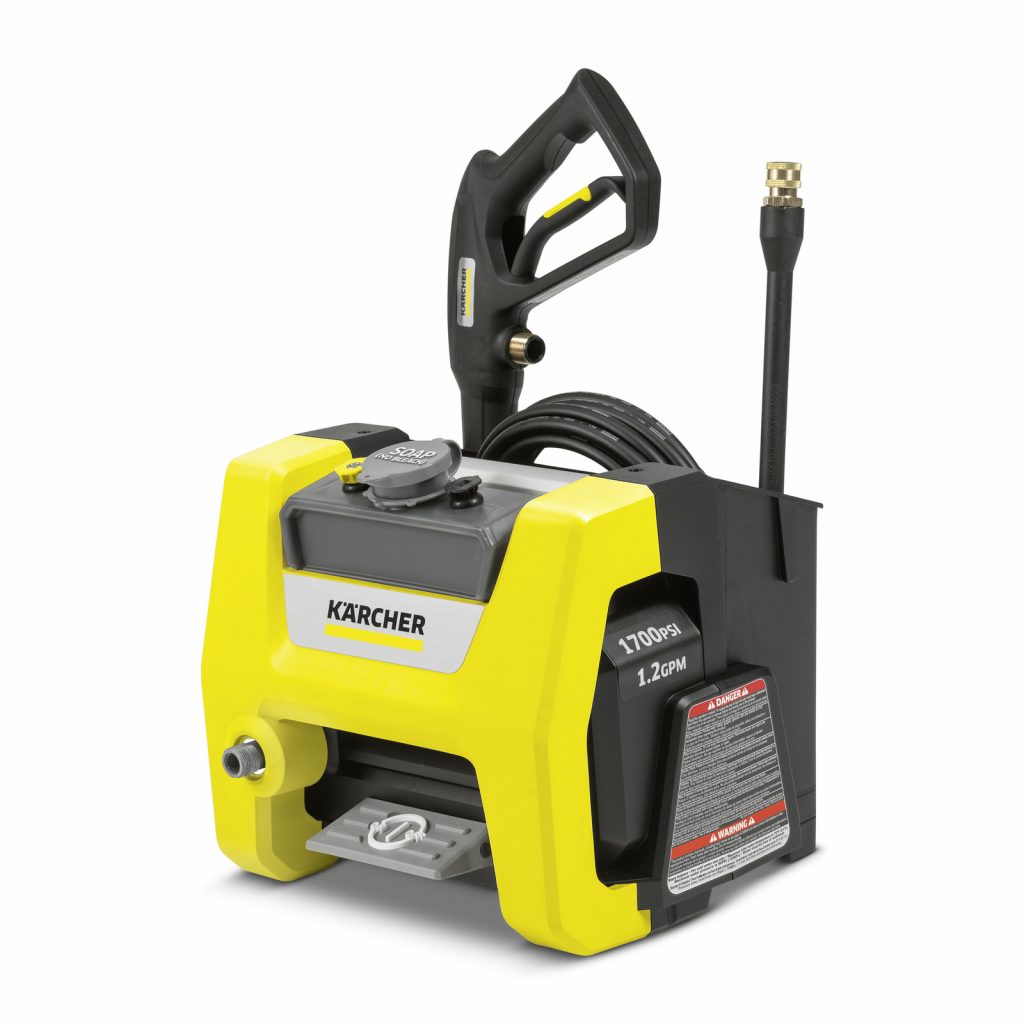 The Karcher KK1700 electric pressure washer is ideal for car detailing and deck washing. This powerful cleaning machine's TruPressure technology produces a staggering 1700 PSI. You won't have to worry about your water bill increasing because it only uses 1.2 GPM. The K1700 also has a convenient foot-operated on/off switch but lacks a hose reel. You don't have to stoop down to stow the power cable because it's kept at the very top of the handle. It only has three nozzles, but they are the most helpful: a turbo nozzle for concentrated cleaning power, a 15-degree all-purpose nozzle, and a nozzle for soap application.
This pressure washer includes a spacious, detachable storage container to hold all your accessories and personal items. It also contains a detachable 0.5-gallon detergent and soap tank that is simple to clean and use. Its heavy-duty frame and all-metal hose connectors will wow you even more. Because they are huge, no-flat wheels, the wheels are also long-lasting. While many brands only provide a one-year warranty, Karcher offers a limited three-year warranty with a speedy exchange program if you find any warranty-covered faults. Concerns include a short hose and complaints of a defective soap dispenser.
Pros
Portable & Lightweight
A removable bucket that also serves as a handy storage
Storage-friendly compact size
Warranty of 3 years
Cons
Water leaks from the hose connection point
a 20-foot hose that isn't quite as long
not particularly potent
4. Adam's Electric Pressure Washer 2.0
The Adams Polishes Pressure Washer 2.0 is an excellent pressure washer in quality and finish. Adams worked hard to develop a car detailing pressure washer specifically built for the automotive industry. The hose is a 40-foot steel braided hose that is longer and more robust than any other. The handle can be longer, and a balance bar prevents it from tipping over while in use. With a short nose, the wash gun is the best stock gun and wand combo on the market.
The 1.4 GPM flow rate of this 2000 PSI pressure washer is ideal for foaming your vehicle and removing stubborn dirt and grime. The Adam's Pressure Washer 2.0 is a cold water pressure washer designed for industrial or commercial use. It's ideal for mobile cleaning, weekend washing, or handling those tedious house chores! To cut clogging, algae buildup, or impurities damaging the unit, you should use clean water with Adam's Pressure Washer 2.0. If you have to use other water, run clean water through it.
Pros
Effective cleaning
Amazing accessories
Heavy-duty equipment
Cons
5. WEN PW2800 Gas Pressure Washer
WEN PW2800 is a heavy-duty pressure washer that fulfills all your cleaning needs. It has a gas pressure of 2800 PSI, which washes away all the tangles of grime and filth. Furthermore, the nozzles and extensions assist you in locating dirty areas of your vehicle. So by increasing pressure intensity, you can rapidly remove dirt. Furthermore, the extended water hose makes cleaning your car's most bizarre hidden areas much easier. It comes with an application that lets you deep clean your car using cleaning adhesives.
The pressure released by this 173 cc engine (axial cam pump) is 2800 PSI, far beyond that of a standard garden hose. Furthermore, the flow volume is up to 2.3GPM, justifying the use of 6440 cleaning units. Furthermore, this pressure washer's design, handling mechanism, and steel frame ensure durability. We offer a two-year warranty on all its products. But, as with any gas type, it necessitates extra care for storage and gas availability. Some owners say the Wen burns through gas rapidly. While a four-stroke motor is convenient, you'll have to change the oil at least once a year.
Pros
Powerful
Simple to start
Warranty: two years
Cons
Expensive
Noisy
A tiny gas tank
Choosing the Best Microphone for Hi-Hat: A Buying Guide
Even though I've narrowed down the long list of pressure washers for foam cannon to the top five, finding one good pressure washer is challenging. I've created this buying guide to assist you in making an informed purchase.
Hoses
The pressure washer's water hose links the spray nozzle to the water hose. The hose is the most crucial component of the washer, and you should check it before purchasing. Water hoses for pressure washers come in a variety of sizes and materials. A pressure washer with a built-in hose reel is ideal for dealing with hoses of various lengths.
It would help if you thought about how much water you will use. The pressure washer hose you choose should be flexible and sturdy and have a valve. You should be able to move the hose from one location to another without it kinking. The ideal material for a hose is PVC, polyethylene, or nylon.
Mobility
A pressure washer's mobility is crucial because you must use it to clean and wash various surfaces. If you're looking for a portable pressure washer, you'll want to look at more than the weight. It would help if you also considered how it will get power and whether it will need access to an outdoor water supply. A decent model will have wheels and a hose reel so you can switch between chores fast. Because gas pressure washers are heavier than electric pressure washers, they usually have wheels. It makes it easier and faster for your tool to go from one location to another.
PSI
PSI stands for pounds per square inch, like the rate at which water flows each second. The more PSI you have, the more cleaning power you'll get from the water stream's tremendous force. As a result, having the right PSI while shopping for a pressure washer is essential. Choose your PSI rate according to the type of cleaning you intend to do. Too much PSI can be overkill if you aren't seeking heavy-duty cleaning.
The pressure washer's PSI will vary depending on the model and the kind of foam cannon. A foam cannon should have the least pressure of 1,000 PSI. 1,500 PSI is a nice target to aim for. That should be enough to cut through the grease or filth on most surfaces. But if you're blasting concrete, you'll need more force. Gas pressure washers give the highest PSI and are ideal for any professional foam cannon attachment.
Nozzles
A water-handling nozzle, as well as a foam cannon, should come with a pressure washer. If you're cleaning your deck using a pressure washer, the nozzle should be able to produce a vigorous stream of water. This way, it can remove dirt and grime without damaging the wood.
The flat fan and turbo nozzles are the optimum soap nozzles for a pressure washer when using a foam cannon. These nozzles produce a significant amount of foam that clings to surfaces. This foam makes these nozzles ideal for cleaning hard-to-reach areas like walls and ceilings.
TSS
A total stop system (TSS) means that the motor will instantly shut off if a foreign object gets into the pump. The total stop system assures that your pump will last a long time. Unlike some professional foam cannon-compatible pressure washers, TSS washers conserve water or energy. It permits an automated system shutdown when the triggers are not engaged. As a result, there will be no unintentional water sprays or waste.
Price Spectrum
Many manufacturers offer a wide range of useful features at a reasonable price. You must check each feature before comparing it to the pricing. If the pricing appears reasonable about the characteristics, then acquiring it, even if expensive, will not be a waste of money.
But, it always depends on your requirements. Invest in what you need. Please "don't" buy something with many features if you're not sure you'll ever use them. Ensure you get something with all the features you need while staying within your budget. In other cases, you can certainly go over budget.
Final Verdict
This article has gathered a list of the five best pressure washers for foam cannons. The list has got something suitable for everyone. We've tried to provide brief reviews highlighting the product's specifications, features, benefits, downsides, and conclusion.
Frequently Asked Questions
Q: Can you use an electric pressure washer with a foam cannon?
Many people find foam cannons superfluous when using their pressure washers only to clean cars. A foam cannon is an excellent addition to many of the capabilities of an electric pressure washer. A foam cannon, like a typical pressure washer, can help remove dirt and stains on the surface. It also adds a layer of sudsy protection that helps prevent new stains from forming.
Q: How much PSI do I need for a foam cannon?
The pressure washer should have a minimum of 2000 PSI for a foam cannon. The foam will be better if the pressure is higher.
Q: What's the point of having a longer power cord?
A longer power cord allows you to connect to a remote electricity source. It allows you to finish your outdoor cleaning tasks without interruption.
Q: Why does my electric pressure washer suddenly stop working?
If you're frustrated by your machine's constant cutting out, it's most likely due to a leak in your water hose or washer frames. Always keep an eye out for dripping water while cleaning. If your hose is already broken, replace it with a water-resistant hose.