Every photographer has various needs: some desire an ultra-wide-angle lens, whereas others prefer JPEGs and a variety of editing features. Many folks desire to capture their next vacation's memories, while some are wildlife aficionados. Many individuals don't understand why they should spend money on a digital camera since they can utilize their phone camera just as well. However, the slim bodies of the phones, on the other hand, can't accommodate an optical zoom lens or a powerful sensor. Matchlessly, a high-quality digital camera can be your finest travel partner on many photography excursions.
If you have decided to buy a new digital camera, but you're not sure where to start then don't worry as we've been there too! It is probably fair to say that getting lost in the overcrowded camera market is simple. Every brand has released a series of point-and-shoot cameras that offer a variety of features and excellent performance. This, however, does not guarantee the dependability or flexibility of any of those cameras. So, we have done detailed research to recommend you a few best point-and-shoot cameras under only $500.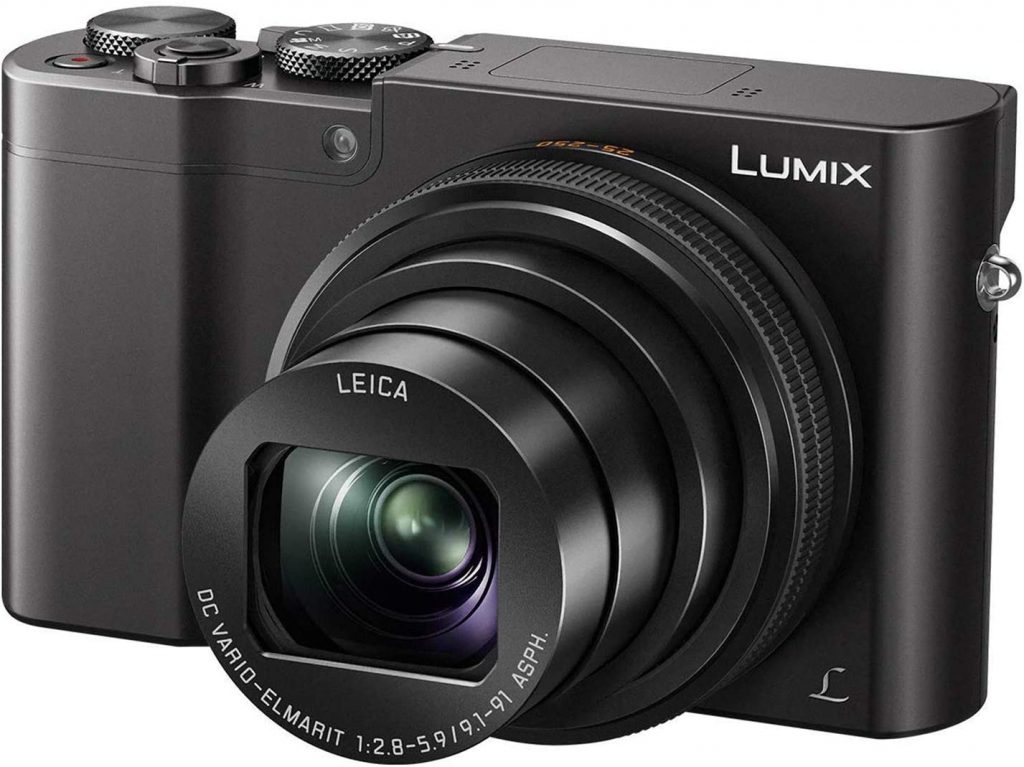 Features
Pixels: 20.9 Megapixel
Maximum Resolution: 5472 x 3648
Sensor: MOS 1 inch
Image stabilization: Optical, Sensor-Shift (5-Axis)
Focal length: 9.1 to 91mm
Weight: 312g
Zoom: 10x
ISO Sensitivity: Auto, 125 to 12800
Product Description:
Panasonic's LUMIX ZS100 is another proof of how the company has grown to become one of the best sought-after brands on the market.
With all its high-end functions and huge zoom range, this new premium camera more than makes up for its affordable price.
With an extra 6mm of thickness and 2.2mm of height, it's identical to its forerunner, the ZS60.
The metal body shell is available in two elegant colours: black and silver and provides it a strong feel to withstand some challenging photography settings.
Performance:
What good is a camera of if it doesn't have a great result and a quick focussing system? The latter works particularly effective because it quickly locks on to your selected subject. It was much more amazing to see how well it performed in dim light. The all-purpose meeting system produces fairly accurate exposures, however, photographs captured in strong contrast can be easily corrected with exposure correction in post-production.
Going on, the optical zoom range makes no compromises in picture quality, and both sides of the telephoto zoom reveal the same high image. It can shoot photographs at 10 frames per second and decreases to 6 frames per second in constant autofocus mode, which is quite good given the price. The battery life isn't disappointing either: you may shoot around 300 shots in a single charge or 240 shots if you want to use the viewfinder. Although it lags in relatively low ISOs, the photographs from ISO800 to ISO12800 seem substantially nicer than its competitors.
Bottom line:
This was, without a doubt, a much-needed update. Panasonic made the right decision when it introduced the Lumix ZS100, which revolutionised the one-inch sensor market. Although we like a relatively greater digital viewfinder, the pocket-friendly shape and zooming range are adequate to mask our difficulty with the fixed screen, this camera is great for all the travellers on budget.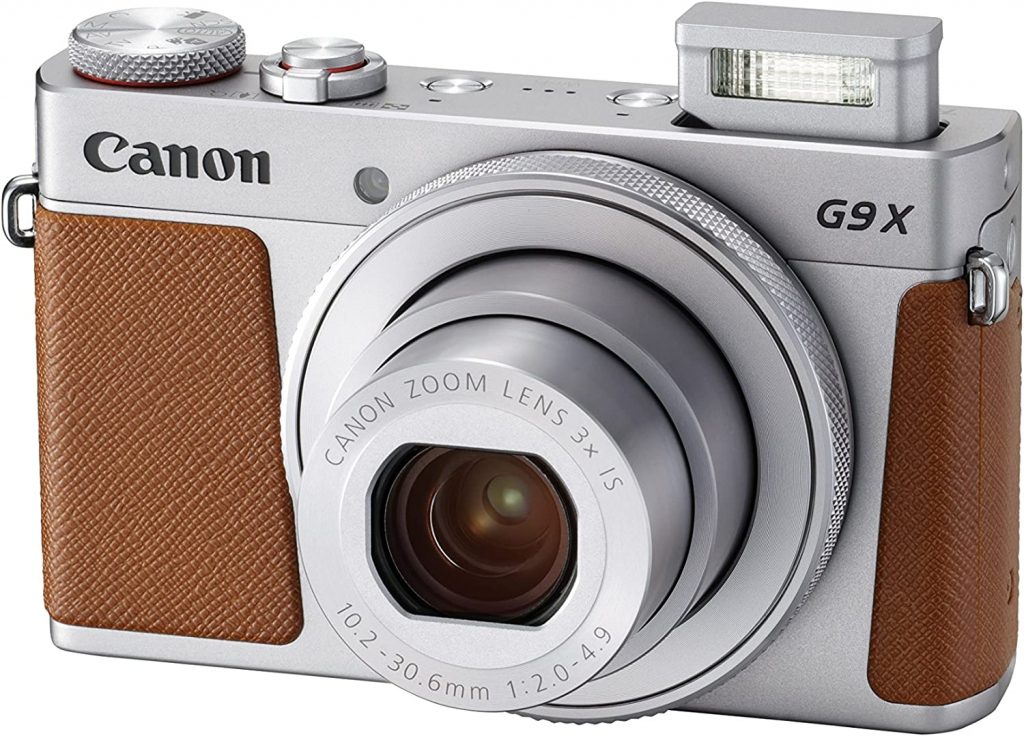 Features
Pixels: 20.9 Megapixel
Maximum Resolution: 5472 x 3648
Sensor: CMOS 1 inch
Image stabilization: Optical
Focal length: 10.2 to 30.6mm
ISO Sensitivity: Auto, 125 to 6400
Product description:
With their cameras, Canon does not ever fail to let us down.
Canon has everything, from high-resolution images to cutting-edge functionality.
There were no substantial modifications relative to the earlier version, which is helpful for existing customers who don't want to waste time learning used to the new upgrade.
It comes in two colours: black and silver, and it has a metallic finish for a sleek design.
Rather than a handgrip, there is a textured grip and rear thumb rests for the same functionality.
There are several settings available, including a tracking mode and face identification for those who prefer to keep their focus on a specific subject, as well as "Servo" for better focusing and macro mode.
Performance:
First and foremost, the focusing system, like the other functionalities, performs admirably. For comprehensive coverage, tap on the display to select the focus spots. Furthermore, when you tap on the subject you want to photograph, the touch shutter stimulates automatically. Basically, the performance is quick and efficient, and there are no concerns about low light.
The default white balance is quite realistic in several scenarios, and the raw mode enables users to fine-tune the images in post-production. The battery life lasts for 235 photos on a single charge, but you may get around 355 shots if you use the eco mode: ideal for individuals who are usually on the go.
Bottom line:
This is a fantastic option for both newcomers and professionals. With its tiny dimensions and excellent picture quality, the Canon PowerShot G9 X Mark II keeps a competitive advantage over its rivals. Although we experienced some troubles with a few basic functionalities, the clean layout and general quality were able to mask them.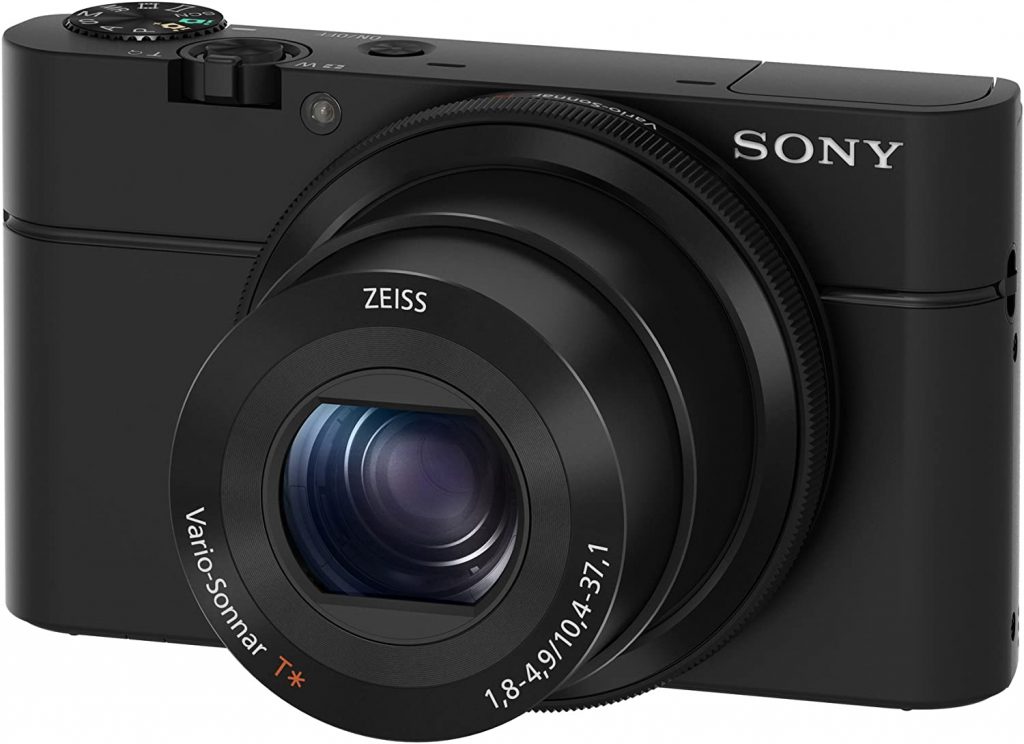 Features
Pixels: 20.2 megapixels
Maximum Resolution: 5472 x 3648
Sensor: CMOS 1 inch
Focal length: 28 – 100mm
Weight: 240 g
Zoom: 3.6x
ISO Sensitivity: Auto, ISO 125-6400
Product description:
This model faces stiff competition from several high-end competitors by providing improved picture quality, which is not available in comparably priced cameras.
Because of the metal body, it has a weighty, substantial feel to it, indicating that it is durable enough to withstand a variety of shooting settings.
After sensing a sudden drop, the autonomous drop sensor reverses the lens.
A 3.6x optical zoom lens is controlled by a button on the top, and it works well.
On the back, there are a few programmable buttons for convenient operation, and the 'Fn' key enables you to add up to 7 multiple activities based on your requirements.
There are also roughly 33 digital filters, comparable to those found on Instagram, with some being more well-known, such as the Illustration Effect, Toy Camera, and Miniature.
Performance:
Users may snap photographs with a variety of effects, such as the much-hyped "bokeh effect," because of the big sensor and wide-aperture lens. Even in direct sunshine, the Carl Zeiss lens does not generate blurriness or flare, instead, it retains a lower sensitivity value with a fast shutter speed to achieve blur-free photographs.
The lens is crisp at f/8 aperture and preserves results up to the margins. We observed some realistic shots with incredibly intricate shadows and brilliant highlights thanks to the D-range optimizer feature, which evaluates the scene to determine the ideal exposure setting. There is an Auto and Super-Intelligent Auto mode that identifies a scene and applies the best composition.
Bottom line:
We believe that the Sony Cyber-shot RX100 is the ideal option for individuals who don't want the enormous, hefty shape of a DSLR but yet want equivalent picture excellence at a reduced price.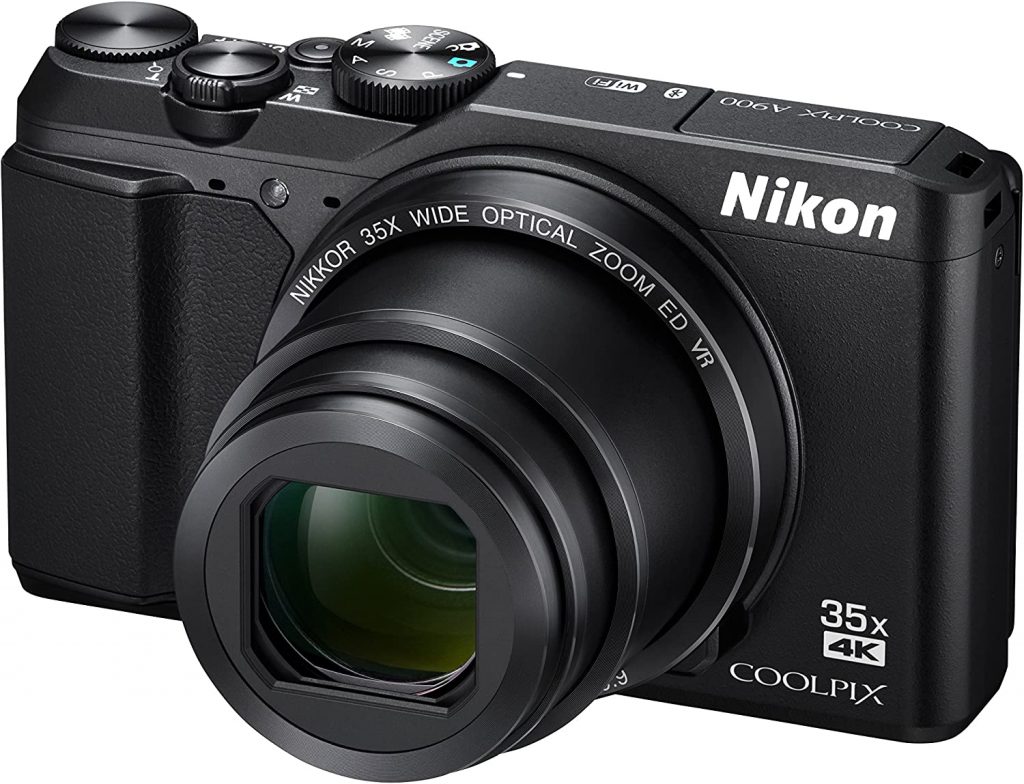 Features
Pixels: 20.3 megapixels
Maximum Resolution: 5184 x 3888
Sensor: 1/2.3-in. type CMOS
Focal length: 4.3-151 mm
Weight: 299 g
Zoom: 4x
ISO Sensitivity: ISO 80-1600
Product description:
The Nikon COOLPIX A900 is one of the few point-and-shoot cameras that can record in 4K and other formats.
This latest superzoom small camera features a 35x optical zoom, 20.3 Megapixels, manual control, and Snap bridge compatibility, as well as manual control.
It's a little bigger, but it will still fit in your pockets.
Furthermore, the casing has a superb 35x zoom lens that is amazingly equipped with focal length.
The A900 also shoots 4K videos, which is a fantastic feature.
Performance:
The focusing system is rather efficient, particularly in bright light, where it performs quickly and accurately. Users can use the macro function to get extremely close to their selected subject and fill the picture. When it comes to picture quality, it is fantastic in good lighting, with incredibly detailed photographs being captured. The photos are enhanced by the automated white balance, which makes the colours bright and lively with just the perfect proportion of punch.
Bottom line:
This is ideal for those who require a wide zooming range, and if you are not troubled by the lack of a touchscreen LCD; you should definitely consider purchasing it.
Conclusion:
We realize that shopping is difficult, especially when you are on a tight budget. The Panasonic Lumix ZS100 lives up to its name and is perfect for documenting your experiences. With a robust performance and abundance of impressive shots, the Canon PowerShot outperforms its competitors, whereas the remaining of cameras from Sony and Nikon on our list are equally as impressive. These four brands are the cults when it comes to quality point and shoot cameras so you should feel free to be buying from them reliably. We hope you enjoyed the list of the finest point and shoot cameras under $500 in this review article.