If you're an adventurer and love capturing everything about your journeys, it might be difficult for you to find the perfect backpack mount. Although there are many in the market, finding a perfect one remains hectic. But it's a great thing to have one. Especially if you're a blogger, it's a must-have thing for you to capture every minute of your expeditions.
Not only this, some things happen once in a while, such as climbing a mountain and recording hiking videos. You never find yourself in such places daily, so capturing these moments requires a durable mount which you'll discover in the content below.
This blog will cover the five most durable and high-quality backpack mounts of 2024. Without further hassle, let's begin.
Our Top Picks Of 2024
1. SameTop Backpack Clip Mount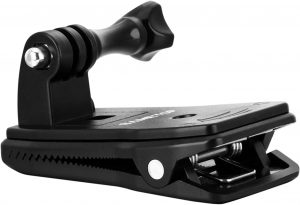 Features
Upgraded structure design and high-quality plastics
360-degree rotation the direction and stand angle
Perfect for clipping on backpack Strap
Getting a backpack to mount your 360 camera can be a real struggle. To lessen your hassle, SameTop brings you their backpack clip mount. Its build quality is amazing, and it comes with a clip that attaches directly to your bag and is easy to remove. So, attaching and removing it won't consume your time and energy. It also comes with amazing features.
The features include a sturdy design made of high durable plastic, and it can attach tightly where needed. It allows you to adjust the rotation of the mount. You can rotate it up to 360 degrees. In short, it's best to make adjustments to the camera before you start hiking so the camera covers every bit of the journey. Furthermore, if you want, you can attach it to the backpack's strap.
Doing so will make it easier to capture images at the front. Another thing to add is that this backpack clip mount only goes with GoPro Hero10 black, Hero9 Black, Hero8 Black, Hero7 Black, Hero7 Silver, Hero7 White, Hero6, Hero5, Hero4, Session, Hero3+, Hero3, Hero2, Hero1, Hero (2018), Max, Fusion and a few other action cameras.
---
2. SUREWO 360° Rotation Backpack Strap Mount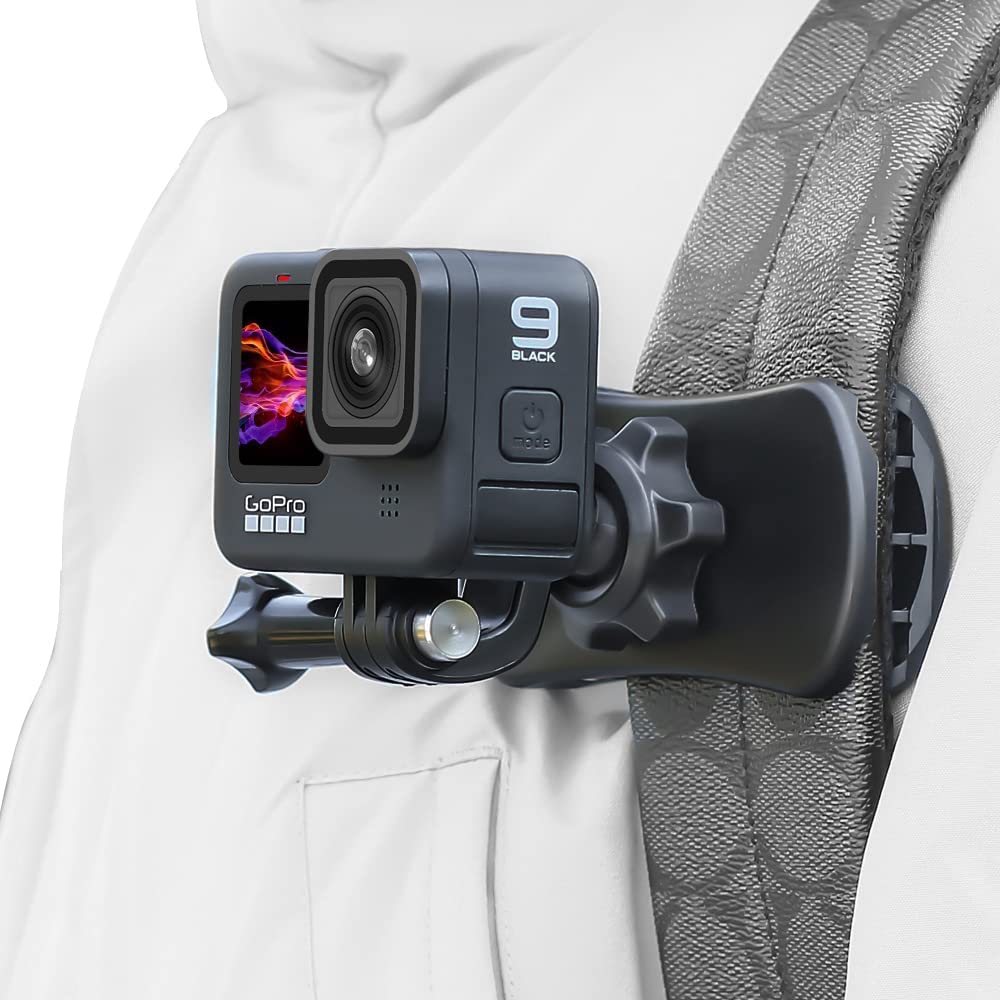 Features
NEW BACKPACK CLIP MOUNT
SHARK-LIKE CLIP DESIGN
KEEP THE RIGHT SHOOTING ANGLE
WIDELY AVAILABLE
PRACTICAL
If you want to do adventurous hiking, bike riding, or skiing, SUREWO is one of the best backpack mounts. It's highly durable and has a sharp clip. It has a tighter grip and is made of the most durable and high-end product. The cherry on top, this mount can fit in any backpack place. Many users have praised its quality and features. How about if we dig into its features first? Let's begin.
The features of SUREWO include convenient installation and removal. Moreover, its design and structure are outclass-the exteriors are made with elastic nylon and polycarbonate buckle while the interior is made of very soft material. The soft, comfy straps make the backpack comfy to wear. In addition, the makers use a shock-absorbing elastomer in strap making of the base mount that reduces the camera shaking. As a result, the camera gives good quality videos and pictures.
Also, you set the shooting angle in multiple directions, such as can mount it on your bosom or the shoulder. Not to forget, you can rotate the mount up to 360 degrees. Apart from other features, this mount is convenient to carry, and you can roam freely while shooting at the same time.
---
3.STUNTMAN Pack Mount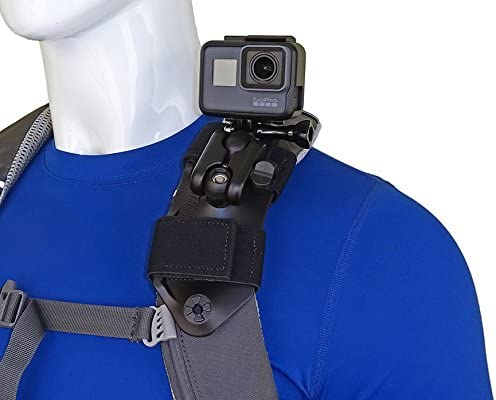 Features
Stabilizes the camera
Ball joint
Additional adapters are available
Made in the USA. High-quality materials
Are you someone who enjoys thrilling adventures and, at the same time, shoots videos? But for that, you need a backpack mount to walk freely without the worry of holding a camera. Don't worry; StuntMan Pack Mount comes to the rescue. One good thing about it is that it's neither made of plastic nor metal, reducing the chances of causing any injury to you. Also, you can fit in on the shoulder strap in the front with the help of a ratchet buckle and a locking thumbscrew.
Furthermore, its make material is a semi-rigid elastomer and has two non-slip straps. They can attach easily through velcro hook and loop fasteners. The width of the strap is up to 2.5 inches.
It comes with a ball joint causing you to rotate the camera at any angle. To mount it, you can fit it on any shoulder. In fact, you can adjust it either on the shoulder or on the chest. It's compatible with all of them, from GoPro to HERO9, HERO8, HERO7, Max, Fusion, and any other GoPro camera.
The good news is that it goes with action cameras, including Akaso, Apeman, DJI Osmo Action, Garmin, Insta360, ISAW, Olfi, Rollei, Rylo, SJCAM, SpyPoint, Veho, Yi Technology, and more. Those who have used this backpack mount say it has an outclass performance and is worth every penny.
---
4. TELESIN 360 Rotation Backpack Clip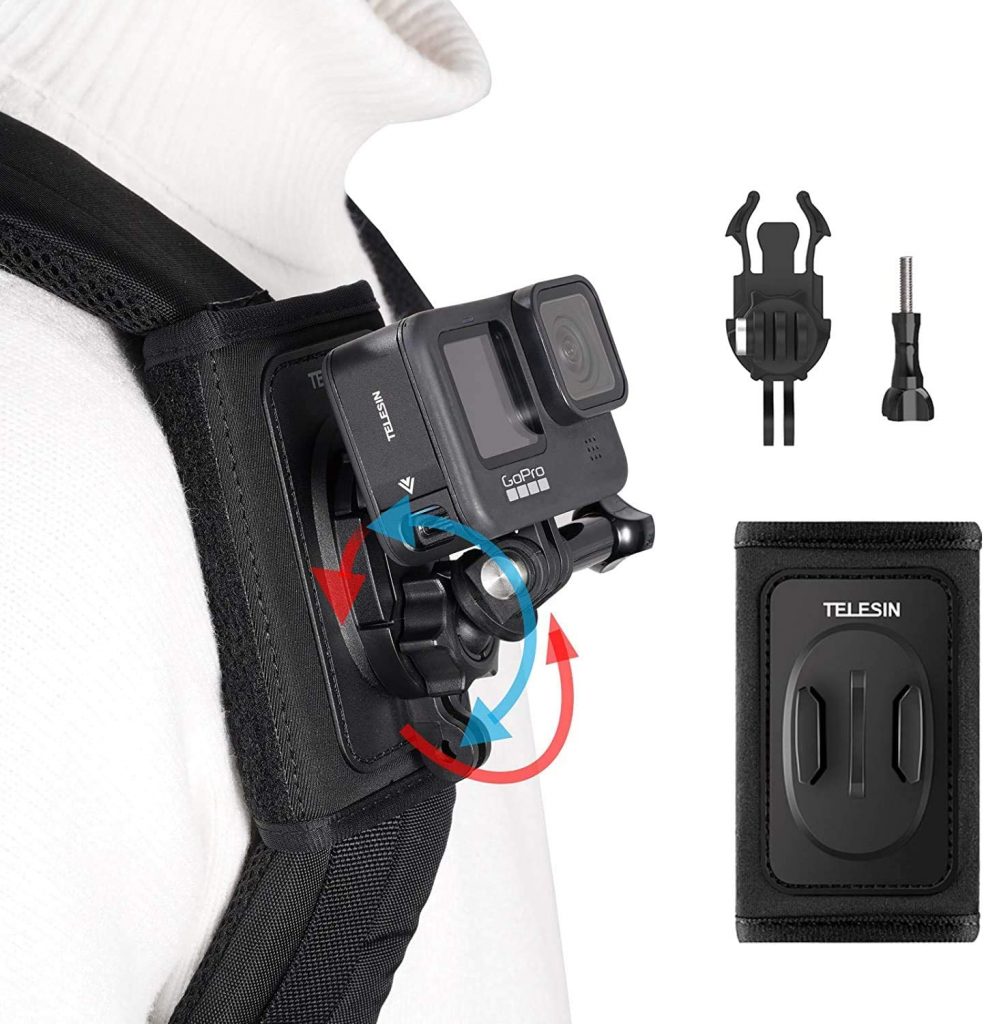 Features
Great Compatibility
Perfect Outdoor Shooting Accessories
Comfortable and 360 Rotatable
Security Assurance
Package Content and Warranty
If you shoot content occasionally and are looking for a pocket-friendly backpack mount, then Telesin 360 is perfect for you. Although it's not the best option for adventurous activities, still, if your budget is tight, you can pick this one. Moreover, it's elastic nylon and has comfy yet soft backpack straps. Not only this, but it delivers a lightweight, hence not putting burdens on your shoulders.
The TELESIN brings some mind-blowing features too. They include 360 degrees rotation of the camera at various angles. To talk of its design, it has an ergonomic design. The cameras with which this mount is compatible involve GoPro, OSMO ACTION, Sony Action Cam, 360fly, Contour, Drift Innovation, Garmin, ISAW, JVC, Kodak, Nikon, Olfi, Olympus, Panasonic, Ricoh, Rollei, SJCam, TomTom, Veho, Yi Technology and a few action cameras.
You can also use it for handheld camera recording, including a ¼-20 tripod socket. Another thing that sighs relief is its base plate made of shock-absorbing elastomer. The other things which come with the mount are J-hook, a selfie stand, a frame case, and more.
---
5. RUIGPRO Backpack Strap Mount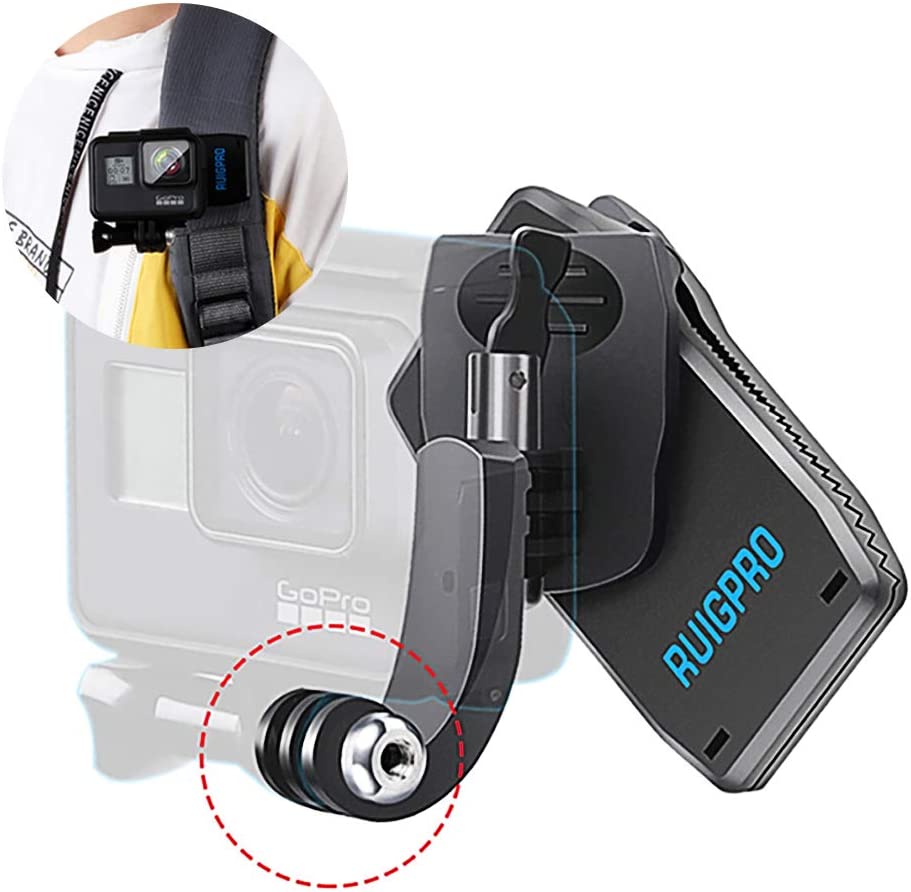 Features
360° Adjustable / Continuous Innovation for Better
Wide Compatibility
Compact Shark tooth design
Upgrade elastic thick spring
Here we introduce you to another great model on the list. Its make quality is not so durable, but still, it's perfect if you look at the price. Secondly, the clip has teeth that attach the clip tightly, making the mount not shake. Also, if you want, you can place it anywhere you want and adjust the angle in any direction, whether vertical or horizontal.
Some amazing features of the backpack mount include a tight grip of the clip, soft and nice make material, quite good durability, and more. This mount can go with many cameras, i-e, from the GoPro Hero series to DJI OSMO Action and XIAOYI, etc. The mount's grip on the shoulders is good too.
On the other hand, many people have used this product, and their reviews define the quality of this backpack mount well. So, grab yours now before it's too late.
---
Choosing the Best Best Backpack Mount For 360 Camera-The buying Guide
Getting a backpack mount for a 360-degree camera is necessary if you do hiking and various adventurous stunts. With it, you can record the videos and capture images without any worry of holding the camera. The mount will do the deed. Now you must consider what to consider before buying the right backpack clip for holding your camera. Here you go!
Material
Always make sure what the mount is made of. The quality used in ints makes the material superior. Ignoring this thing can lead to wastage of your money and time. Also, if you buy one without knowing the mount's material, it will break. Yes, you read this right. The mount will fall apart, and your shooting will be disrupted. So, know the material's quality first and then make the purchase.
Price
This is the main factor to ponder on. If you're buying a mount for occasional use, you can pick one for less price. If you're going on thrilling rides or adventures, go for one with a high price with the best features. It'll last longer and will have the capability to hold your camera for a longer time. So, don't compromise on the price if the deal is good.
Size
There are variations in size. Each mount is not perfect for every camera. Some suit well with the large cameras, while others fit the small cameras. So, before making a purchase, check if you're perfectly attached against the mount or not. Think, check, decide and then buy the product.
Make Quality
Apart from other factors, build quality also matters. What if the mount looks cool, but it lacks good make quality? You'll end up losing your money for the crap. It's better to do a proper inspection and check if the quality of the mount is robust or not. Go for it if you think it can last long and hold your camera properly.
Durability
When buying a mount for your camera, look at how its build material looks. Don't go for it if it gives a weak look, as it may break later. Also, make sure you buy the one whose strap is comfy and sturdy. Moreover, mount durability is a combo of two aspects,i-e, the build quality, and material. These two things let the users know if the mount is worth purchasing or not. Another thing you wouldn't want into your camera holder is falling while you're busy doing your stunts.
So, make sure you buy the one with a strong grip, sturdy look, and a robust structure. We want you to spend your money on the right product, so you don't have to purchase the same product again and again.
Final Thoughts
To sum it up, the above mentioned are some of the best 360 camera backpacks that you can buy. They have lightweight and perfect sizes. They will help you capture the most magnificent images while tightly holding your camera. Each of them has professional specs and features. You won't have to worry about their grip, they hold your back as tightly as the lion catches its enemy. Your money won't go in vain. In addition, all of them are light on pocket and won't cost you a fortune. Their make quality is outclassed, and are highly durable.
Frequently Asked Questions
Q. Which 360 camera backpack mount is good to buy?
Many but the best ones are SAMETO, SUREWO and STUNTMAN 360 backpack mounts. They have the best specs and features and are highly durable.
Q. Which one is budget-friendly?
The television 360 rotation backpack clip is the most budget-friendly product. This is your go-to product if you don't want to spend much money on the amount.
Q. How to attach a mount to a backpack?
It's very easy. The mount comes with strong clips having a grip as sturdy as the shark's teeth. You can attach it to the backpack or the left and right shoulder strap. Also, you can later remove it easily as well.
Q. Will my camera rotate if I fix it on the mount?
Yes, the mount comes with a ball joint. Its purpose is to let you set the camera at different angles. You can rotate it the way and wherever you want.
Q? Can I attach a camera mount to the bosom?
Yes, you can fix the mount in front of the strap. There's an option to either attach it to the bosom or below it.
Q: Will it give a tighter grip?
Yes, absolutely. The mounts for the backpack we have chosen have an excellent grip. They won't fall off the bag regardless of any activity you do.