Whether you need a VPN for your online connection because censorship is heavily exerted in your country and you're trying to bypass it, or you're simply more concerned about your online privacy than your regular internet user, you'd be right to look into getting a VPN for your connection. You may already be aware that public Wi-Fi isn't always very safe to use, but how about your Wi-Fi connection at home, is it that much more secure? Turns out it isn't. Governments and ISP just love to spy on users and collect their data, be it for surveillance or for marketing purposes. It's high time you started protecting your activities from preying eyes. Let's take a look at TorGuard VPN: they offer their services on multiple devices, as well as an anonymous email service.
8 Reasons you should choose TorGuard VPN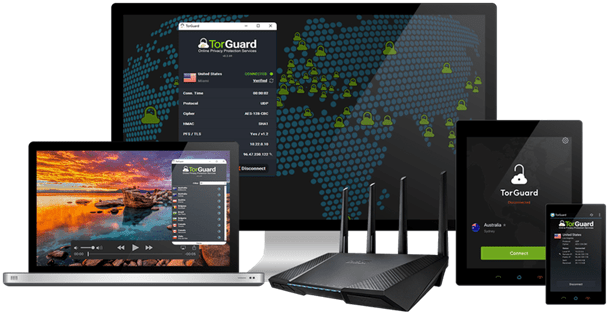 1 – The price
TorGuard's basic VPN package starts at $9.99/month, while their Anonymous Proxy service is only $5.95/month, the Private Email is $6.95/month and the Smart DNS is $5.95/month. TorGuard also offers dedicated IP addresses from $7.99/month, which can be helpful if you're looking into setting up game servers or use specific websites that work well with one IP address. It also works very well with Netflix unblocked, Hulu and other online streaming services.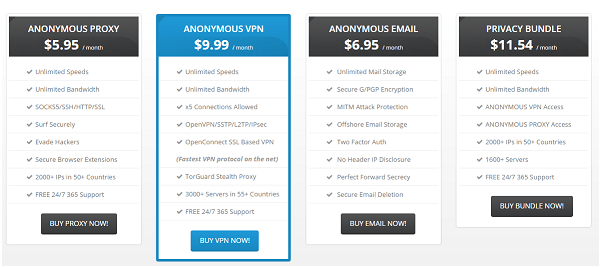 Even though TorGuard VPN comes at a slightly higher price than a few of its rivals on the market, its numerous services and its fair pricing policy provide a great model for any user. Torguard offers a really affordable package at $19.99 for 3-months worth noting, $29.99 for six-months, while a yearly plan is only $59.99. What's more, they occasionally offer extremely interesting deals such as their currently running  "1984" offer that will allow you to get 50% off all services and features! (use code 1984 at checkout)
It's possible to pay for Torguard's services through a wide variety of payment methods, including both classic and cryptocurrencies options, and even gift cards (as of December 2017, the cryptocurrencies they accept include Litecoin, Bitcoin, Ethereum, Ethereum Classic, Dash, Zcash, DogeCoin, Monero, BlackCoin, NavCoin, Novacoin, PIVX, Peercoin, Startcoin, Vertcoin, CloakCoin, Namecoin, Nxt, Potcoin, Steem Dollars, VeriCoin, WorldCoin, Primecoin).
2 – The clients and user interface
Once you've got a running subscription for Torguard, you can go ahead and download the TorGuard client you need for your device on https://torguard.net/downloads.php.
Torguard is available on Windows, Mac, Linux, Android and iOS, as well as VPN routers such as DDWRT and Tomato. All versions are updated on a regular basis for a safe and optimal experience. After you've installed the software, you'll be able to launch it and access the service. The home screen is as simple as can be with its minimalistic and smooth design ; however the more advanced users out there will find tons of settings and features to tweak if they want to. From that point, you can choose a country, a server, a tunnel type, a protocol and a cipher. The software features a start at launch option, which can be useful for those of us who tend to forget to manually launch their VPN. Let's not forget about the well thought built-in kill switch, it'll ensure your apps or software automatically disconnect if your VPN does (super useful with BitTorrent!). Other privacy and security features include WebRTC leak block and DNS leak block, for an overall super safe experience.
3 – The servers and countries availability
TorGuard allows you to connect to a huge amount of servers in a wide vartiety of countries, since they currently offers over 3000 servers in 55+ countries with their VPN plan. Every server available is guaranteed never to be overloaded, with a 99.99% up time. Most of the countries available in the list offer several IPs for users to choose from, ensuring servers won't be overloaded and optimal speed is preserved for all users regardless of their location and server choice.
4 – Speeds and bandwidth

Have you ever experienced Bandwidth restrictions and/or speed throttling while using other VPN services? That definitely won't happen with TorGuard. Whether you're torrenting, streaming (TorGuard is US Netflix compatible, by the way!), or simply browsing, TorGuard is definitely one of the fastest VPNs out there, especially since their OpenConnect protocol integration.
All VPNs are known to more or less slow connection speeds down, and so does TorGuard, but at a very negligible level, see for yourself: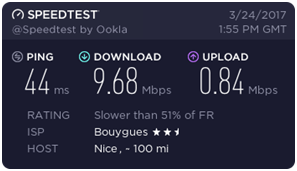 Speedtest run without the VPN Vs. with the VPN running
5 – Stealth VPN
Torguard offers dedicated 'Stealth' VPN servers (as opposed to special VPN protocols) which makes their stealth technology accessible from any device or platform, including mobile, which is ideal to browse the web from sensitive countries with heavy censorship, like China. Even if you're not a Chinese resident, you'll be glad to have TorGuard installed on your various devices should you go on a trip there someday, since it is known to successfully circumvent country-wide firewalls like the infamous Great Firewall of China (check out this video for more explanation).

6 – The email service
If your privacy needs also include email protection, TorGuard will tick all of your boxes. They offer an extra 10mb encrypted email account for free, while almost no other VPN provider does. You'll dispose of a fully encrypted 10MB email account @email.tg secured on Torguard offshore servers, relying on optimized OpenPGP encryption. Obviously, their email service features classic email key components, such as a calendar, a task planner, key storage, bulk import, advanced search and other useful options. You may be wondering why encrypting your emails is important, and the answer is: Laws move fast when it comes to the Internet, and huge tech companies may soon become unable to protect their users' data from governmental entities or law enforcement, so it's definitely worth looking into it. And since Torguard lets you explore that option for free, you may as well take advantage of it.
7 – The privacy

For TorGuard, nothing matters most than being a reliable and privacy-respectful company. When it comes to their communication, they strongly insist on the fact they want to be a simple and easy alternative to conventional monitored connections, so their point definitely isn't  to use their service to snoop on people, when that is precisely what they are trying to let people avoid. Their policy on the matter is very clear: they do not keep logs of any sort ; neither data, nor traffic. Good news for all of the privacy-concerned users out there, and the torrenters too. TorGuard really takes your privacy seriously. They offer a secure 256-bit AES OpenVPN encryption by default and allow the user to select their own encryption cipher if needed. Users can also choose between a BF-CBC, AES-128-CBC, and AES-256-CBC encryption on all servers. TorGuard VPN supports PPTP, OpenVPN, L2TP/IPSec and SSTP protocols.
8 – Customer support
Customer support is available 24/7 on TorGuard thanks to a super effective chat service on its website. It allows both potential subscribers and customers to ask questions about the service, request help for setting up their devices or report a problem if needed. The agents are friendly and engaging, communicate quickly and have all the links they need at their fingertips, resulting in a fast and reliable service, just as promised on Torguard's website. Should you have any problem with your VPN plan, Torguard will do everything they can not to leave you in the dark.
What's more, subscribers can use a ticket system to ask questions, which TorGuard answers via email if they don't want to engage in a chat. An agent from the tech team will usually get back to you within 24 hours and address any question you may habe.
Bonus: Custom built routers

One of the last (but many!) things worth noting about TorGuard is that on top of their other services and features, they also offer custom-built routers for sale on TorGuard's website as well as Amazon and eBay. That means that instead of having to set up the VPN software on one or several devices (and that can be very annoying if you're using a PS4, for example), these routers run Torguard natively. Various brands and models are available, including some top-of-the-line routers. Want one last bonus? For any router purchase, the hardware will receive an included 30-day free VPN subscription.
Conclusion

Pros :
TorGuard is one of the best VPN service available out there, and for pretty legit reasons: The service features an intuitive interface, more settings and configurations than any other VPN app on the market, affordable plans, over 3000 servers in 55+ countries, they accept Bitcoin and other cryptocurrencies, they have a no log policy, and much more!
Cons :
If Torguard does have flaws, they're pretty hard to find! And the best part is, if you do happen to find some, they'll make sure and correct them, as TorGuard is constantly on the lookout for improvements!
Whether you're a VPN neophyte or a privacy pro, TorGuard offers nothing but a really attractive service. It definitely has a cost, but you'll get what you pay for once you subscribe: quality. Their privacy policy is very transparent, and obviously that's what any user would expect from what basically is an online privacy provider, on top of offering a stable and reliable connection. The "Stealth" servers also allow users in repressive counties to evade censorship. No logs kept, so absolutely no one out there can spy on your online activities or transactions. While the only real con could be the slightly pricey subscription necessary to use the service, and the fact there's no free trial, there couldn't be a better time to try the service and enjoy an exceptional deal while their 1984 offer lasts. That's the best excuse you'll get to subscribe to an excellent service at a very cheap price. For closure, TorGuard's service is an all rounder, it works for everyone, and their reputation is built on solid ground, which makes them a trustworthy company.