Keyless entry is not a new discovery within the automobile industry. Key fobs have replaced metal keys for some time now. However, encountering a lost or broken a key fob can be quite a stressful and expensive endeavor. Car tech has advanced in such a way to now suggest using a smartphone as the key for any car. Specifically, the car manufacturer Volvo has been experimenting with such technology and is confident that a smartphone vehicle operating system could be fully operational by 2017.
Anyone, Anywhere, Anytime
Smartphones have essentially become most people's constant companion. The fact alone that most of us carry our phones with us everywhere we go is quite the compelling argument against lost car keys. Of course, many of us rely on our mini-computers substantially every day in order to get anything done in a timely fashion (I know I do). So, adding one more smartphone app into our phones would add an ease of use factor for most of us. In addition, it's one less item to lose track of.
What's more, this system would allow for multiple users of the same car without a whole mess of duplicate keys or spendy key fobs. The owner of the car could easily set up access for as many people as desired, right from their smartphone. They would also have the power to set restrictions for each user, which is especially convenient for parents. Some models have even discussed the possibility of controlling the max speed of the car, radio volume levels, and times that the car can be used by certain key-holding individuals. Temporary access could also be granted and revoked quickly for folks like friends, employees, or valet services.
Ordering a rental service with the addition of smartphone entry will make auto lending easier than ever. The key can be delivered directly to a mobile device within seconds and GPS location technology will tell the user exactly where to pick up their ride. This would likely also enhance the experience for car lenders themselves. With the ability to send and withdraw key ownership at the touch of a button, renters can ensure the protection of their assets with minimal time and effort.
Needless to say , none of this would work with a dead smartphone battery or if the phone breaks. Basically, with this system, it would never be more important to take care of that phone in your pocket.
Keyless Hackers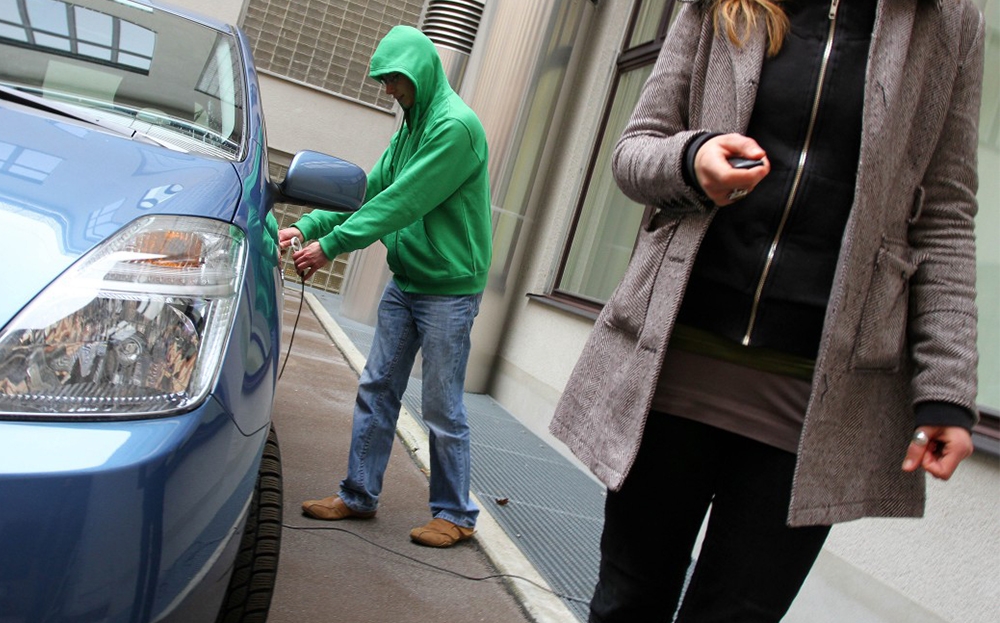 Although almost every aspect of keyless cars sounds nearly impeccable, some companies are voicing concerns about hackers. The National Highway Traffic Safety Administration predicts that in years to come cybersecurity will likely become with largest problem among car owners. During test runs no company has yet run into this issue, but concerns of smartphone hackers cracking the app's code thus gaining entry to the car and the ignition remain. Last year, to hackers were even able to successfully turn off an engine of a vehicle while the car was in motion.
Also, An instance of malware was recognized to be present in many popular iPhone apps just last year. The malware gave hackers access to certain apps downloaded by thousands of smartphone users across the world. Sequentially, many phones and the personal data stored on the device was compromised. It was suggested to immediately stop use and delete the app completely until the malware had been effectively removed.
Even though this particular instance is no longer affecting smartphone users, hackers are still as clever as always. Some tech buffs say that hacking into a smartphone app really isn't as difficult as one might think. Research shows that when app hacks have occurred, 84% of these cases happened in just minutes. There are even some automated hacking tools available directly to the public – for free.
Regardless of the doubts, it's clear that keyless smartphone entry to any car would be an intelligent move for car manufacturers, auto renters, and car owners alike. The technology to support such a system is already at our fingertips. So, the possibility of this smartphone tech becoming available to everyone within the next year is undoubtable. With that being said, the threat of smartphone hacking is real. Let's hope auto manufacturer's team up with folks who can ensure the unquestionable cybersecurity of cars across the world.