Hope you already know that the search results in the first page get more attention than in the following pages.
In case you are not aware, there is a study that Infront Webworks did. The result of the study established that links in the first page get more than 90% web traffic than subsequent pages.
So, if your page is getting ranked in the second or subsequent pages, brace yourself for the bad news. Traffic is not going to pick up soon.
But, hey a change is always round the corner. There are some hacks that I am going to tell you in this article. If you follow them correctly, be assured that your website is going to beat everybody else in the search engine race and climb up to the top slots, why you can even get the very first web ranking.
So, let's begin.
Here is what we are going to cover down below in the forthcoming steps.
A bit about Google and its search engine algorithm
Finding out your current search engine ranking
Keyword research
Perfecting your On-page SEO
Optimizing Content with keywords
Link building like a pro
#1 A bit about Google and its search engine algorithm
Google's search engine algorithm is like a jynx. Nobody knows for real how it works and how it can be tweaked. But, one thing for sure. Googlers are constantly on the works to update and revise it on a regular basis. Moz estimates that Google's algorithm undergoes 500 to 600 changes in a year.
Can you believe that!? That is almost 2 updates a day. This is bad for you as a marketer or a website owner. The constant change means you have to tweak your website, its content and also other marketing collaterals.
In 2014, Google advocated the use of HTTPS for better search engine ranking. This means you have to configure a cheap SSL certificate to convince Google that your website is secure to be ranked higher.
The point is, understand how Google's algorithm changes from time to time and stay current with it. Otherwise your existing ranking as well as future ranking stands to get affected.
That brings us to the second point.
#2 Finding out your current search engine ranking
To improve on something you need to know where exactly you are standing right now. So, what is your current search engine ranking?
A random Google search may not be the right way to do it, since there are several parameters that can actually give you wrong results.
So, I suggest you use SERPs.com rank checker which is relied upon by marketing brands and marketing agencies alike.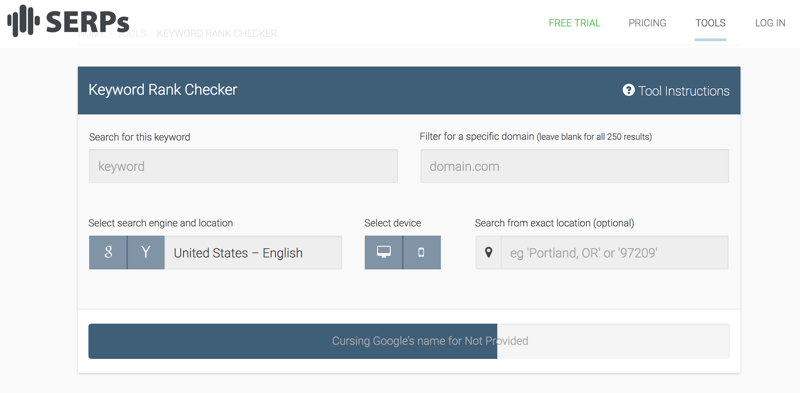 In the keyword box enter your targeted keyword and your domain address. Enter the search engine and the location where you want to see your keyword ranking. You can also set other parameters like device and exact pin address of the location.
The website will fetch the results which will give information like:
Your keyword position
Web page within your website that ranks the best
Average searches by month
Average cost per click for each keyword
These metrics are more than sufficient enough to know where you stand when compared to your competitors and how much you have to improve on your ranking.
#3 Keyword research
In simple terms, the keyword are the pointers that direct traffic to your website. Users land on your product landing pages or offer pages by searching for related keywords.
So, it pays to do some research and find out the exact set of keywords that your page ranks best for.
First, find out what popular keywords users search for to reach your website. You can use the awesome Google Keyword Planner tool which makes this is a task easily done with a simple search console.
In most cases, you will be getting keywords which you already know. But, the difference is, now you will know which keyword enjoys the maximum search volume. With that information in hand, you can tweak your website header tags, meta description and content for maximum benefit.
Which brings us to the next point which is fixing your on page optimization.
#4 Perfecting your On-page SEO
On-page optimization forms the crux of your SEO process. On-page optimization refers to the activities followed to make your web page maximum SEO-friendly.
Some key considerations in on-page SEO optimization include:
Title tag optimization to ensure thay your titles attract search bots and help rank your page higher up the results
Using schema markup to make it easy for search bots to crawl through your page
Developing search engine sitemap that tells how your web content is organized
#5 Optimizing Content with keywords
Once done with optimizing your on page with SEO elements, the next step to optimize your other marketing collaterals with the right set of keywords. Since the Google Panda update, the need to  optimize content that reaches out to niche group of people was important.
You can improve the search engine ranking for your original keyword by inserting keyword with high-search volume naturally into the content. When the content is shared across social media and other content syndication platforms, it multiplies the keyword reach and helps rank your content higher.
Conclusion
The thing with Google is that it never remains the same. Be it be the search bar or the search engine process, there is always an update round the corner. So, as a marketer you are under the obligation and necessity to constantly fine tune your SEO strategy to keep up with Google.
Apart from major SEO changes, there are several other minor tweaks that happen which need to be considered. This calls for analyzing your search engine ranking on a regular basis. I have mentioned how you can do it in Step #2.
Next in list is to find out whether you are using the right set of keywords and how you can improve it by doing a bit of keyword research. When doing keyword research, bear in mind how your target customers search for your products/services, their buyer personas and how competition is tackling it.
Once you have all this in place, go about creating awesome content that will bait in users, engage them, delight them and convert them as customers for life.
All set? Now, go make SEO your favorite marketing strategy.