The accidental deletion of photos and especially files is a common issue these days. In most cases, it happens because of a virus attack. However, there is no need to worry because the EaseUS file recovery softer provides the perfect solution.
The same thing happened to me a few days ago and I lost all my precious photographs. This recovery software seemed to be a miracle at that time. So here I am going to share my experience and the methods to use this recovery software to recover all the important files.
EaseUS file recovery software
It is one of the most popular recovery software that you will find in the market. It has been developed with such algorithms that you can recover any kind of data from it. Regardless of the size of the file, it will help you to recover images, files, documents, audio and video files. This fast file recovery software will allow you to have your essential files back into your system within seconds.
The clean interface and the negligible complication of the features make it very easy to understand and use. There are no special skills required to recover the files using this file recovery software. Even a person who is new to computers can easily utilize this software.
EaseUS data recovery wizard free works perfectly will all type of devices whether it is external or internal. It means that you can recover the data by any means.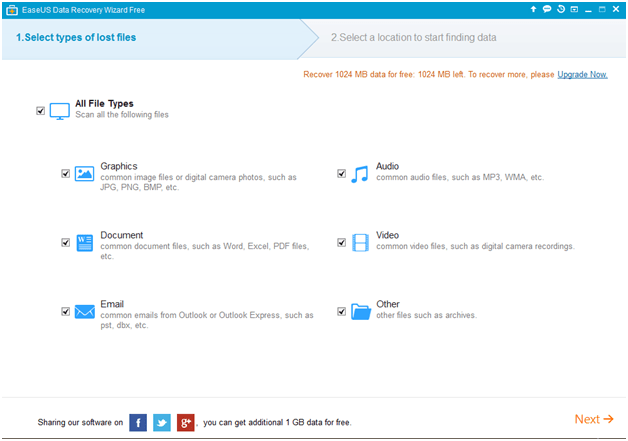 Recover photos or files
So here is the simplest method with which you can recover any type of lost data using the recovery software:
First, you have to download the file recovery software into your PC. You can find EaseUS file recovery software versions for both Max OS X and Windows.
Once downloaded you have to start the installation procedure. Wait patiently until it has been successfully installed in your computer
Now launch the recovery software on your device and select the types of files that you want to be recovered. In this case, we will select graphics.
Now select the option of next
Either now you can select the complete partition that you lost or the specific images that you want back on your computer.
Now the scanning process of the selected drive will begin
You will be provided with the list of all the deleted images
Select the images that you want back and click on recover. Within seconds, your photos will appear on your computer. Recovery speed depends on the number and size of files selected.
Final verdict
So this is how you can use the EaseUS file recovery software to recover any type of data. This responsive recovery software will be the solution to all your deletion issues. So make sure that you share this information with others as well, so they can benefit from it.
If you need more information about the recovery software, you can visit their official website.