Internal linking is often part of any good SEO strategy.  For those that don't know the difference between internal and external link building – internal links are where you hyperlink to and from your own pages within your website.  External links involve other websites linking to your website from their own content.
These links help create a bond between pages to help search engines to both crawl your content and understand what your content is about.  This helps with increasing your search visibility, particularly for those internal pages ranking for keyword searches.
Many businesses and websites often forget to consider an internal link strategy and some even settle for hyperlinking back to their homepage or contact us page, missing out on opportunities to increase their search visibility.
As a result this leads to their content often in the dark and instead tells search engines that the most important content is their homepage and contact us pages.
To help you avoid going down the wrong path, here are five ways to improve the internal linking throughout your website and hopefully help to increase your organic traffic and conversions.
Deeper Links
Whilst Google Analytics may tell you that your homepage is the most-visited page on your website, this could be a result of branding or pointing all or most of your links to this page.  However, it is unlikely that this will be the ideal situation for your website.  For example, your homepage may not convert as well as your product pages.
Your homepage is often the default page to link to when citing content or attributing a quote to an employee of your company, this strengthens your homepage's link juice which can then be passed onto internal pages via internal links.
Although your homepage is likely to pass the most link juice around, your blog can often be a very effective source of internal links.  Linking from blog posts that have picked up external links over time can help your website rank within search engines.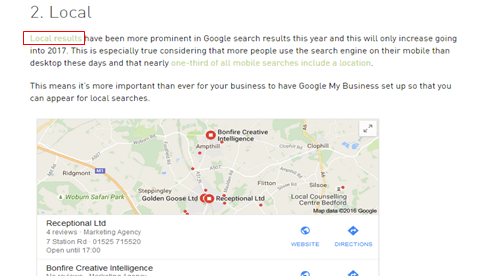 As an example, in a recent Receptional blog post, titled '7 Must-Know Google Ranking Factors in 2017',a section that discusses Local SEO,links this page to the top-level SEO landing page on the Receptional website, using the words 'Local results', to another blog post specifically about Local SEO.This content is relevant to the reader to help them broaden their knowledge of Local SEO by clicking through. As a result, this linkalso helps strengthen the website for the terms associated.
Keep it Natural and Relevant
Inserting links into pages and blog posts for the sake of it can have a negativeimpact on your search engine rankings.  Not only does this worsen your users' experience,it can get you in trouble with search engines for keyword stuffing – this is the process of including numerous keywords on one page regardless of whether they make sense or not.
Internal links are more effective when they are natural and relevant.They should be considered from a user's point of view. Does the page you're linking to add any value or additional information? If the answer is no, then then it's safer not to include the link.Search engines are also very clever at working this out and their intelligence is only improving.
DoFollow Links
'DoFollow' links receive a lot of negative press, notable within the blogging community. For internal linking a 'DoFollow' linkis the way to go.
The opposite of a DoFollow link is a 'NoFollow' link, or rel="nofollow" within your HTML.  This tells search engines that the link should be ignored when coming to judge and rank the page that it is pointing to.  This means that not link equity is passed on.
If you're wanting to send a positive signal to search engines, the value of the links need to flow between the pages.  Therefore, DoFollow links are ideal for your internal link strategy.
You can never have too much content
Google named content as one of its top three ranking factors, along with links. This is as good as anything in showing the importance of content in regards to a website's SEO.
The more content you have on your website gives you more opportunity to add internal links.  If you are trying to add internal links to your existing content then it's useful to have lots of it.
Perhaps your site currently lacks content and you need to come up with a content calendar to schedule in new posts to be written and published.  A lot of linkable content on your website to hyperlink both internally and external is a win/win for your SEO strategy.
Vary your anchor text
Your anchor text on internal links can often be a non-specific call to action, such as 'click here' or 'contact us'.  However, the anchor text that you create in both internal and external links would be ideal to include a keyword that you'd like to receive organic traffic from.  These help search engines to better understand your content and therefore where to rank it in their results.
However, you should not pick just one keyword and use it for all of your links.  This too will have a negative effect which could result in being kicked out of the search engines completely.  Keyword research can be conducted using Google's Keyword Planner if you have an active AdWords account.
Descriptive anchor text for internal links also makes the user aware of what they are clicking through, which is useful for increasingyour click-through rates.